Emergency Dentist — Greenville, TX
Urgent Dental Care Without the Wait
Dental emergencies rarely happen when it's convenient; they occur out of the blue, so that all of a sudden, you're dealing with excruciating dental pain or a damaged smile. Your first step should be to call Stone Street Dental immediately so that we can make arrangements to see you right away. Same-day appointments for emergency dentistry with our Greenville dentist will be made whenever possible, and Dr. Garrad will do everything possible to help you find quick relief and protect your smile from further harm.
Why Choose Stone Street Dental for Emergency Dental Care?
Team Members with 15+ Years of Experience
Variety of Relaxing Dental Sedation Options
Same-Day Emergency Dental Appointments
What to Do in a Dental Emergency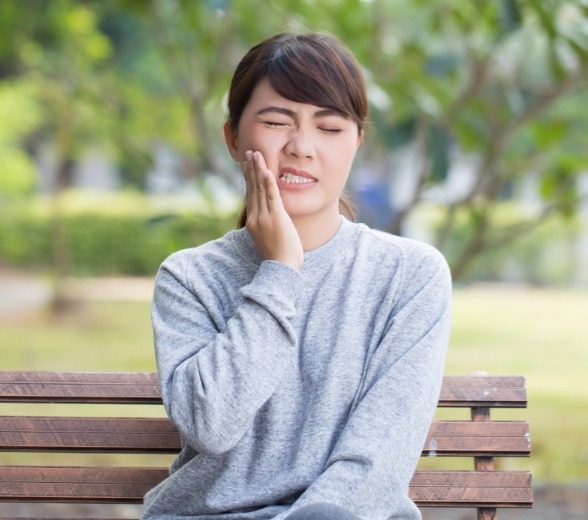 Contact our office. Time is of the essence in any emergency. You need to give us a call right away and schedule a same-day appointment to ensure we have a good chance of saving your smile. Over the phone, an experienced team member will provide first-aid instructions to help you manage your problem in the meantime.
Have an emergency exam. When you get to our office, Dr. Garrad will conduct a detailed examination to identify the root cause of your emergency. Based on her findings, she'll create a custom treatment plan to get your smile back on the right track.
Get the care you need. Our team might be able to temporarily address your situation during your appointment. However, you may have to return for additional treatment like fillings, crowns, root canal therapy, and gum disease treatment.
The Most Common Dental Emergencies
You should seek professional help immediately whenever a dental emergency occurs. When you call our dental office, tell us what happened and describe your symptoms in detail so that we can narrow down the nature of the emergency. Then, we can give you instructions for taking care of your teeth while you wait for your appointment time. Below are a few basic ways you can try and improve your situation while dealing with an injured or infected smile.
Understanding the Cost of Dental Emergencies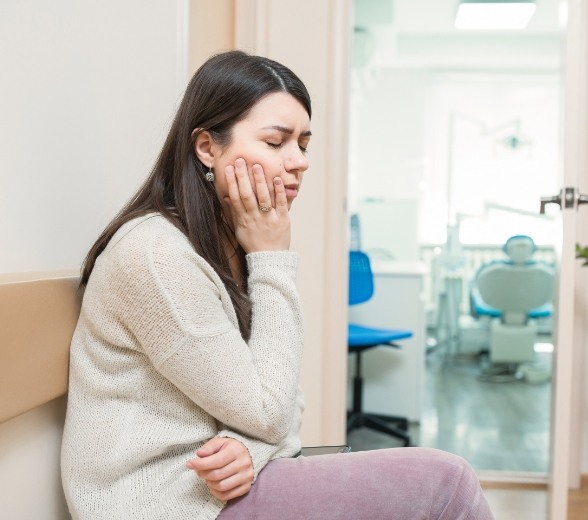 Every dental emergency is different. The cost of your treatment is going to depend on what the problem is and what kind of procedures are used to stop your pain and restore your smile. Sometimes a relatively low-cost solution such as a filling will be enough, but more severe issues might require root canal therapy or other relatively complex treatments. No matter the case, we'll make sure you fully understand the costs involved. We're an extremely dental insurance-friendly dental office that accepts many different plans, and we can also offer financing.
How to Prevent Dental Emergencies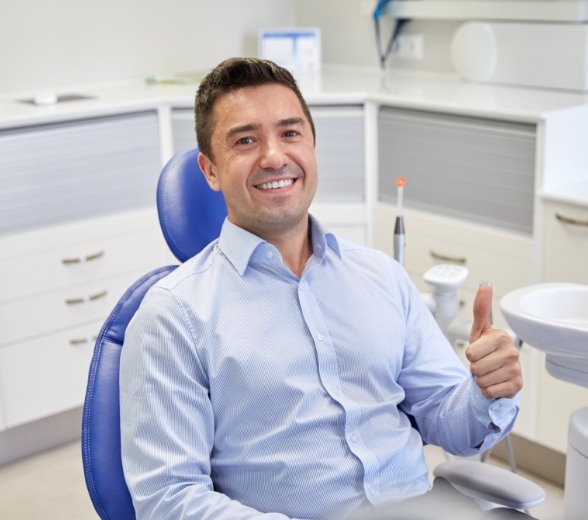 Dental emergencies aren't always avoidable, but there are many steps you can take to drastically reduce your chances of one happening. Here are some tips to keep in mind:
Keep your teeth as clean as possible by brushing and flossing two times every day. You should also visit our dental office for a checkup and cleaning every six months. Such ongoing care can prevent small problems from turning into emergencies.
Invest in a mouthguard. This oral appliance can keep your smile safe while you're playing sports, and it protects them from nighttime grinding.
Do not chew on ice, popcorn kernels, fingernails, or anything else that can wear down and weaken enamel.
Never use your teeth as tools. Find some scissors to open that package.
Root Canal Therapy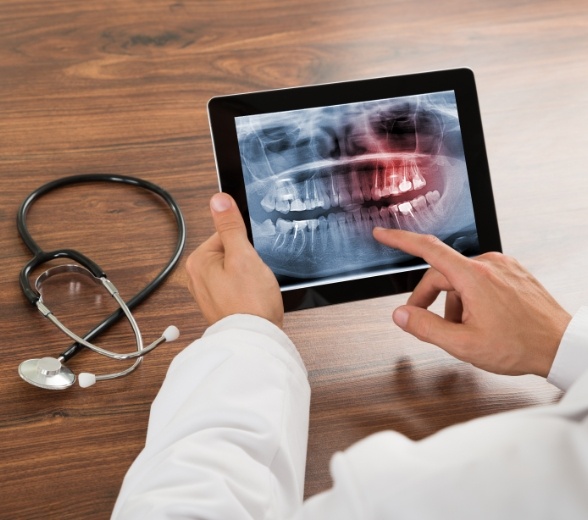 \
Without root canal therapy, an infected tooth would most likely have to be extracted. By removing the pulp inside the tooth, we can stop your pain and remove the bacteria that are actively causing the damage. The procedure actually involves little to no discomfort, especially since the mouth will be numbed beforehand. A crown will be placed over the tooth afterward to ensure that you can still use it to eat and speak normally afterward.
Learn More About Root Canal Therapy
Tooth Extractions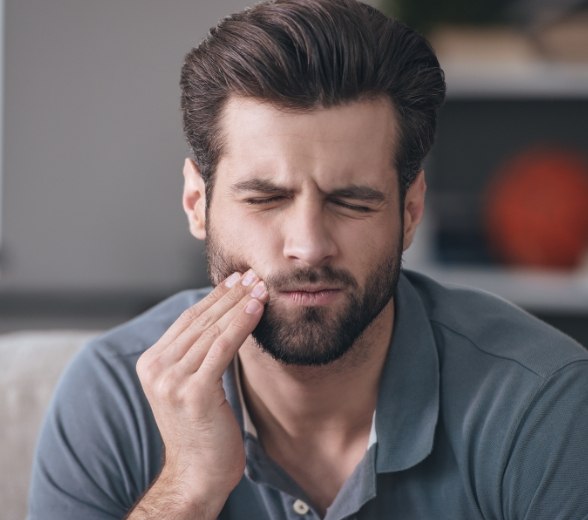 The decision to extract a tooth is not one to be made lightly. It's only done if there's no other option for saving the tooth, which might be the case for:
Badly damaged teeth that cannot support crowns
Severely decayed teeth that cannot be salvaged with root canal therapy
Advanced gum disease that has broken down the tissues anchoring the teeth to the gums and jaw
Once the tooth has been removed, we can start taking steps to replace it with a bridge, denture, or implant.
Dental Emergency FAQs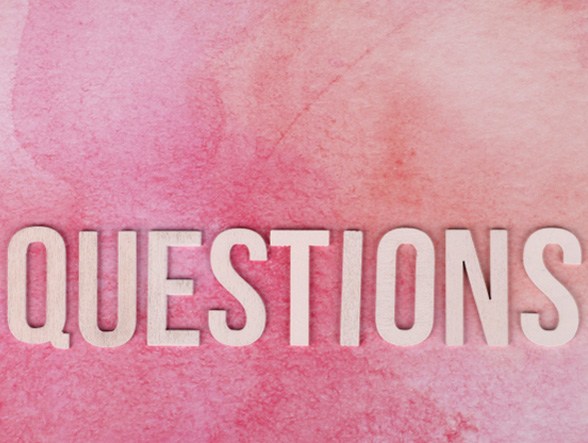 If you can't wait to see a dentist, don't panic! Your emergency dentist in Greenville at Stone Street Dental is here for you. They understand you might have several concerns. They'll explain everything during your consultation and address any apprehensions during your appointment. In the meantime, here are the answers to a few frequently asked questions.
How Should I Sleep With Dental Pain?
You don't have to toss and turn at night if you have a toothache. You can promote a good night's rest with a few precautions. Avoid any hot or cold foods and drinks to prevent sensitivity. Eat soft foods and skip any late-night snacking. Gargle with salt water to reduce pain and inflammation. Take an OTC pain reliever and apply a cold compress to numb the area before going to bed. Sleep with your pillow elevated to prevent blood from pooling in your head to avoid a throbbing toothache.
Do I Need to See a Dentist If My Chipped Tooth Doesn't Hurt?
No matter how minor, you should see a dentist if you've chipped a tooth, even if it doesn't hurt. A chip is more than an aesthetic issue. Even a small chip can leave your tooth vulnerable to bacteria and additional damage with no treatment. If the break is small, and you're not having any pain, you can wait a day or two to see a dentist, but don't delay treatment for too long, or you may lose your tooth.
Do Chipped Teeth Heal?
Unfortunately, your teeth can't grow back. At most, they may remineralize, but a chipped tooth won't heal. It must be treated by a dentist. Minor damage can be fixed with dental bonding or a veneer, but a more significant break may require a crown or another solution.
Can I Fix a Broken Denture with Superglue?
You rely on your denture to get you through your day, and you can't go without it. However, don't use superglue or other remedies to try to repair your denture. Glue can contain toxic chemicals or cause allergic reactions. Not to mention, it doesn't hold up well in moist environments. It's best to leave the mending for professionals. Wear an older denture if possible. We will get you into the office quickly for the necessary repairs or replacements.
Can I Use My Dental Insurance for Emergency Dentistry?
Every policy differs, but most dental insurances cover an emergency consultation, including the examination and any diagnostic imaging. You can also use your insurance to offset the amount you'll pay out-of-pocket for treatment. After meeting your annual deductible, your benefits can pay up to 80% of the cost of common restorative procedures. A member of our team will work on your behalf with your dental insurance to maximize your annual allowance. Our office accepts many payment options for any remaining balance, like monthly installments through CareCredit. We have the financial solutions you need to stop your pain and save your smile.