Dentures – Greenville, TX
Restore Your Smile Without Breaking the Bank
It can be difficult to complete daily tasks when you are missing several, most of, or all of your teeth. Things like eating, speaking clearly, and smiling with confidence become challenging. The good news is that you don't need to go the rest of your life with limited teeth. At Stone Street Dental, we offer customized dentures to restore your smile without breaking the break! To learn more about how dentures in Greenville can reestablish the appearance and function of your smile, contact our office !
Why Choose Stone Street Dental for Dentures?
Customized for Natural Appearance
Friendly, Experienced Dental Team
We Accept Dental Insurance
Who is a Good Candidate for Dentures?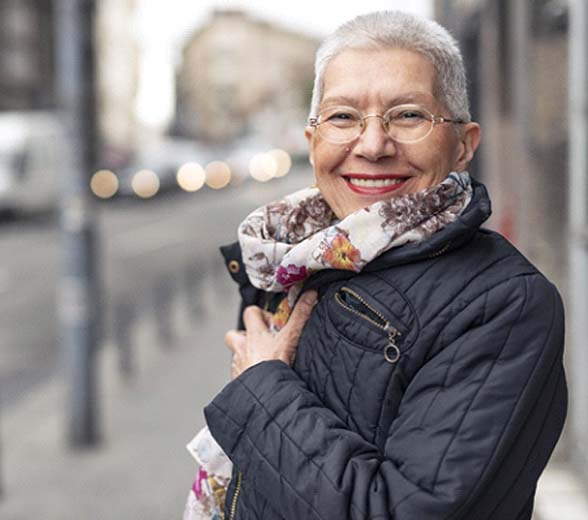 Dentures are a great option for people who are missing anywhere from a few to all of their teeth. This way, daily tasks, like eating, speaking, and smiling, are no longer made difficult. Depending on the number of teeth that you're missing and where they are located in the mouth, a custom plan can be made just for you. If you have any existing oral health issues, like gum disease or tooth decay, these will need to be treated ahead of time. Our number one priority is your oral health.
Types of Dentures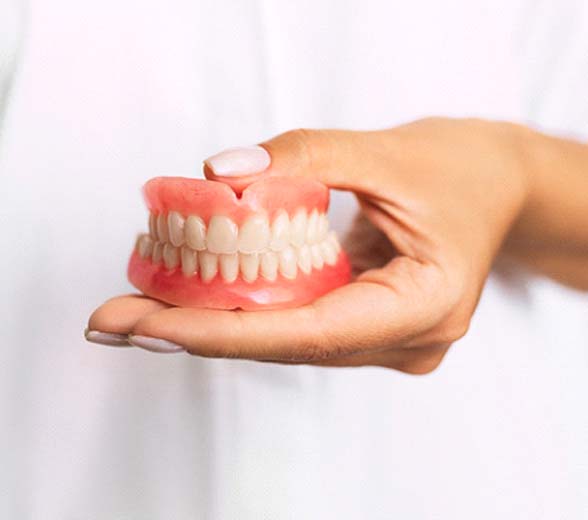 There are several different types of dentures out there to cater to a variety of needs. During your consultation with us, we will determine which of the following is best suited for you:
Partial Dentures
This type of denture is excellent for patients who still have some remaining healthy teeth. A partial denture fits in with surrounding teeth like a puzzle piece and is secured with inconspicuous clasps or brackets. This way, missing teeth in different locations of the mouth can be replaced with a single restoration.
Full Dentures
This traditional option replaces an entire row of missing teeth on the upper or lower arch. Instead of being held in by clasps, traditional full dentures are held in by the shape and natural suction of the mouth. They are designed to meet your unique measurements, needs, and preferences, so they look very similar to natural teeth.
Implant Dentures
Implant dentures are held into place by strategically placed dental implants. This helps when it comes to eliminating, slipping, clicking, and the need for adhesives or clasps. Implant dentures also stimulate the jawbone, reducing the amount of bone loss patients experience over time. The additional stability provided by these implants allow for patients to regain up to 70% or more of their natural chewing power. Implant dentures are designed to last for many decades, so you don't need to worry about having them repaired or replaced in just a few years.
The Benefits of Dentures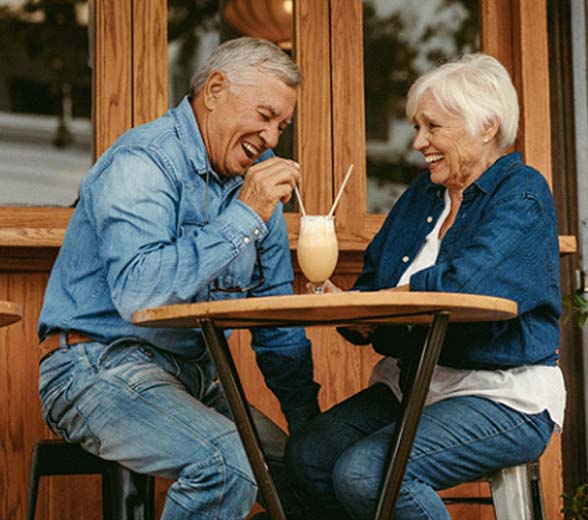 Dentures are a lifechanging tooth replacement option because of their numerous benefits. Here are just some of the ones you can expect to experience:
Improves speaking ability
Increases confidence
Prevents surrounding teeth from moving
Partially covered by most dental insurance plans
Easily removed for cleaning
Natural appearance
Supports facial muscles
Allows for easy eating
Denture FAQs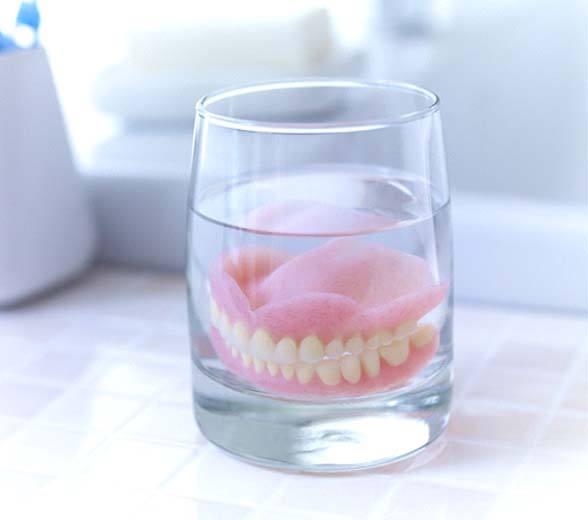 Dentures are an excellent option for patients who are missing most of or all of their teeth, but you may still have some unanswered questions, so we're here to help. Here are the answers to some of the most common questions we receive about dentures in Greenville. If you don't see the information that you're looking for below, don't worry. Give us a call and we'd be happy to tell you more about the restoration and get you started with an initial consultation.
Should I Have All My Teeth Pulled to Get Dentures?
Repairing a damaged tooth is always preferable to replacing it when possible. Tooth extractions of any kind will only ever be recommended if deemed absolutely necessary, like when a tooth is too damaged to save thanks to extensive decay, severe infection, or trauma that's broken off most of the enamel. If all of the teeth in an arch are decayed or infected with gum disease, replacing them with dentures may be a viable option, but your dentist will always explore all of your options before recommending this.
Can I Sleep with My Dentures?
Dentists generally recommend that you take your dentures out at night when you go to bed. When you first get your dentures, you will typically be told to keep them in your mouth for 24 hours, including when you sleep. After that, you should be taking them out every evening. This is because wearing dentures restricts the circulation in your gums, therefore leading to soft tissue irritation and potentially speeding up ridge resorption. Taking dentures out gives the gums a chance to recover and get the nutrients they need during the night. Ultimately, it is better to take out your dentures while you catch some Z's.
Will It Hurt to Get Dentures?
If you need to have teeth extracted before you can get dentures, you're likely to experience some discomfort after the oral surgery. Take your prescribed pain relievers as directed. This discomfort should improve 3 to 5 days afterwards. When you first receive new dentures, some minor irritation may occur as your mouth adjusts to the new appliance. The amount of time this will take varies from person to person. If discomfort persists, give us a call so we can take a look.
Can You Still Eat Steak with Dentures?
Tough meats, like steak, are often difficult to chew with dentures, but it's still possible to do so if you take all the right precautions. Pick out tenderloin and other beef cuts with less connective tissues and muscle fibers. Make sure the meat is thoroughly tenderized beforehand. Cut it into very small pieces to make them easier to manage.